In addition to investing in a rigid wine box, producing wine paper bags is also a step that needs attention. This blog will introduce 3 basic steps to make your wine paper bags as comprehensive gifts.
Suitable materials for Tet gift bags
Raw materials are the first important factor determining the quality of high-end wine paper bags. The following are common types of paper suitable for printing as well as mass production:
Art paper: This is a high-class paper used in printing technology. Paper has a variety of colors, patterns, veins, and roughness … suitable for every customer's needs. The price is expensive because this is a luxury line, but the finished product will meet the luxury required of a wine paper bag for Tet.
Ivory, Duplex paper: These two types of paper are quite similar in surface with a white side and a recycled side. The manufacturer often uses paperweight from 200 GSM and uses white side for printing. In addition, this is a line of recycled paper with a hardness and flatness suitable for producing high-grade paper bags.
Choosing the suitable materials not only helps the production process go smoothly but also meets the customer's cost. Sharing your needs with the paper packaging manufacturer for advice on materials that are suitable for your budget and ensure satisfactory finished product quality.
>>> Remark your Christmas with premium paper bags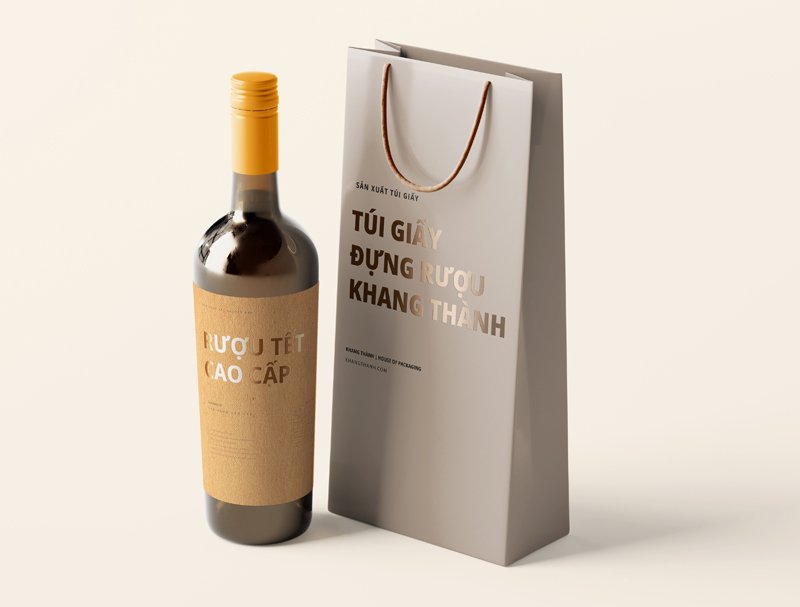 Printing and effect technique for wine paper bags                             
This is an important step to create a highlight for Tet wine paper bags more impressive. Two common printing techniques used are offset and silkscreen printing. In addition to providing a finished product that meets the attention of detail, these two printing methods also reproduce accurate and bright colors suitable for the festive season.
Besides, some other effects are also applied such as:
Gloss or matte lamination for surface effect
Coating with glitter or UV shaping on details and images featured on the Tet holiday
Hot foil stamping on the brand name to create an eye-catching highlight
Embossing or debossing the logo and brand name creates a luxurious feeling
As can be seen, the above printing techniques and effects bring a comprehensive aesthetic to the Tet wine paper bags.
Tet gift paper bags with wine accessories
Investing in accessories and attachments also plays an important role in creating a comprehensive wine paper bag. Some of the materials you can refer to are:
Paper bag handles: There are many styles of bag handles to suit customer needs such as fabric, ribbon, or high-quality leather. You need to pay attention to choosing the right handle because the handle needs to withstand the weight of the rigid wine box and other accessories inside.
Paper hang tags: The combination of a handle with a hang tag printed with a QR code of product information is a creative idea. This not only creates a highlight for wine paper bags but also an opportunity to help customers understand more about products and business information.
Other accessories: Some other accessories may come with high-end wine paper bags such as wine corkscrews, wine pourers, porcelain glasses, or drawstring bags for wine bottles.
The combination of the above accessories not only makes the wine paper bag more thoughtful but also makes the gift recipient extremely impressed by the investment and sophistication.
>>> 2 luxury wine box designs for the New Year presents
When you invest enough in gifts, the recipient will definitely feel your affection. Please share your needs and designs with a reputable packaging manufacturing company for advice. You can contact us at:
KHANG THANH – ​HOUSE OF PACKAGING
Tel: +84 (0) 77 8878 222 ​
Email: info@khangthanh.com